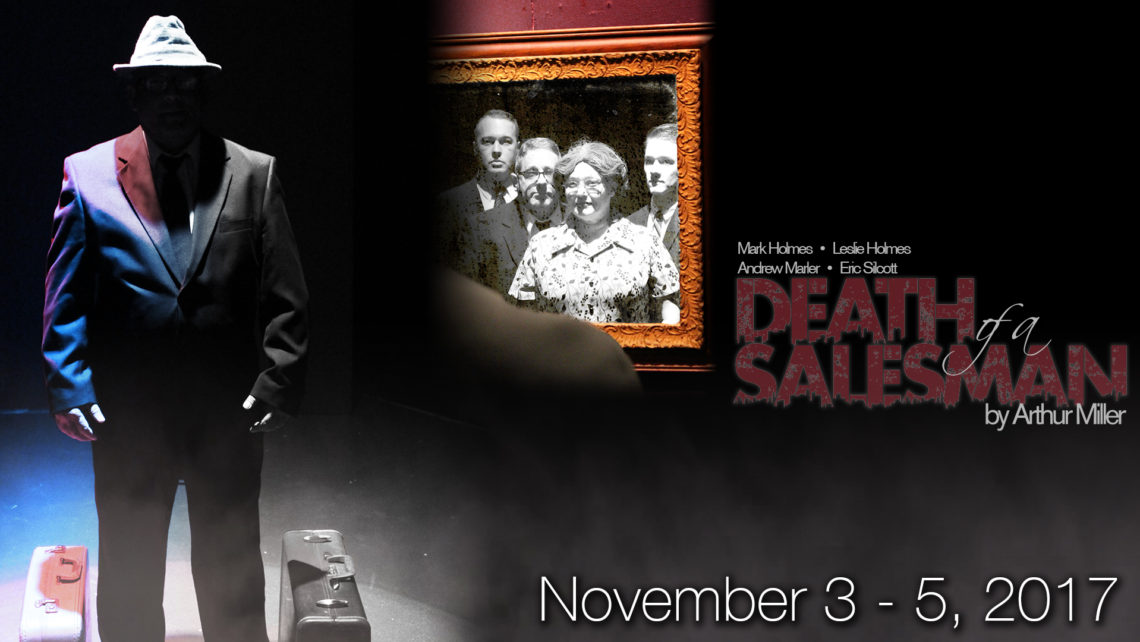 SSCC Theatre proudly presents Death of a Salesman, by Arthur Miller, playing in The Edward K. Daniels Auditorium at Southern State Community College, Hillsboro, Ohio, November 3 and 4 at 7:30 p.m., and on November 5 at 3:30 p.m.
The story revolves around the last days of Willy Loman (played by Mark Holmes), a failing salesman, who cannot understand how he failed to win success and happiness. Through a series of tragic soul-searching revelations of the life he has lived with his wife (Leslie Holmes), his sons (Eric Silcott and Andrew Marler), and his business associates, we discover how his quest for the 'American Dream' kept him blind to the people who truly loved him.
Other cast members include: Jonathan Beatty, Bob Brown, Paula Campagna, Cheyra Harperee, Madison Hatfield, Bronwyn Jones, Sam Stephenson, Shane Taylor, Matthew Waits, and Terry Washburn
The production team includes: Rainee Angles (director), Rainee Angles and Abraham Martin (production design), Laura Martin (costumes), and Benjamin Gullett (public relations). Paula Campagna and Madison Hatfield are the stage managers, assisted by Shane Taylor. Fulfilling other crew positions are: Brent Angles, Laura Bradley, Charlotte Brown, Katie Cavendish, Noah Eaton, Samantha Gaddis, D.J. Griffith, Melissa Griffith, and Zanna Haines.
Tickets for Death of a Salesman are on sale now starting at $8 at www.sscctheatre.com. At the door, tickets start at $10. Credit cards are accepted for online purchases and at the door. Seats for this production will be reserved, so it's recommended that tickets be purchased early. A discount of $2 per ticket is also available for groups of 10 or more.
Season tickets are also currently on sale, which includes Death of a Salesman, Love, Loss, and What I Wore, Dead Man's Cell Phone, and Dead Man Walking. These tickets are also available online, starting at $24, a great savings overall.
For more information about Death of a Salesman, please visit www.sscctheatre.com.