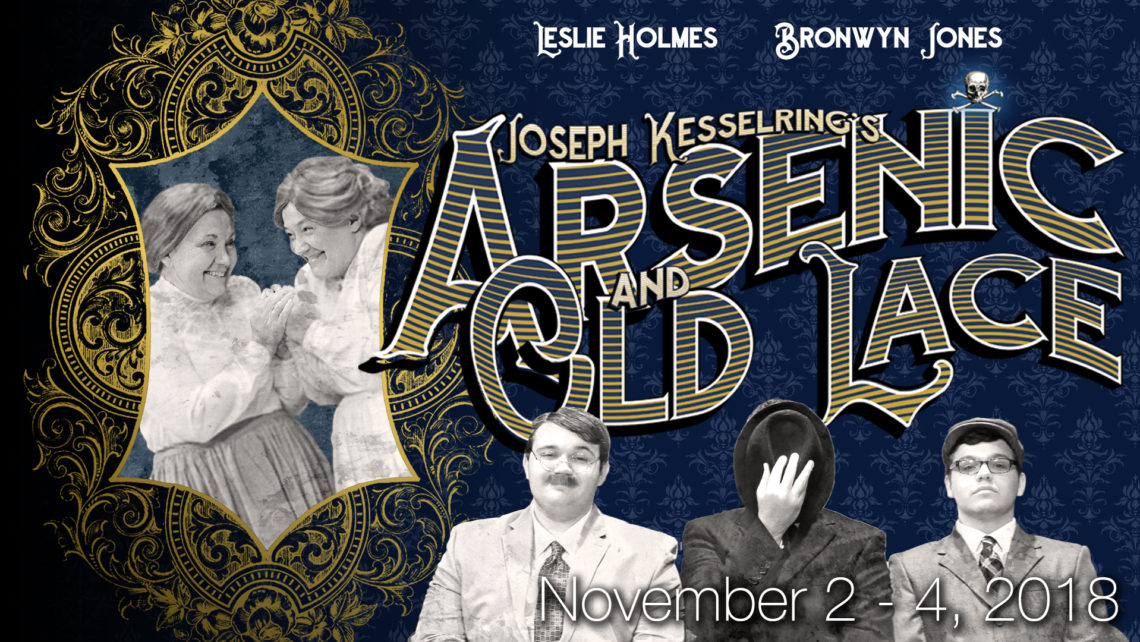 SSCC Theatre proudly presents Arsenic and Old Lace, by Joseph Kesselring, playing in The Edward K. Daniels Auditorium at Southern State Community College, Hillsboro, Ohio, November 2 and 3 at 7:30 p.m., and November 4 at 3:30 p.m.
If you're a lonely, elderly gentleman, steer clear of the old Victorian rooming house that Abby and Martha Brewster (played by Leslie Holmes and Bronwyn Jones) run – it may be your last room on Earth! The charming and sweet old sisters populate their cellar with the remains of socially and religiously "acceptable" roomers. Add to this, the antics of their nephew who thinks he's Teddy Roosevelt (Zebadiah Pickering-Polstra), another who is disfigured and insane (Andrew Marler), and yet another who is lovesick (Shane Taylor) … well, you have a recipe for mayhem and hilarity!
The cast includes: Justin Hatfield, Madison Hatfield, Aidan Holmes, Mark Holmes, Quinn Pickering-Polstra, Jonathan Stewart, Shawn Thomsen, Matthew Waits, and Terry Washburn.
The production team includes: Rainee Angles (director) Brent Angles and Rainee Angles (production design), Zanna Haines (costumes), Benjamin Gullett (public relations), with Paula Campagna (stage manager) and Faith Fetters (assistant stage manager). Fulfilling other crew positions are: Laura Bradley, Charlotte Brown, D.J. Griffith, Melissa Griffith, Ian Holmes, Emma Horick, Jackson King, William Stewart, and Sarah Wuellner.
Tickets for Arsenic and Old Lace are on sale now starting at $8. At the door, tickets start at $10. Credit cards are accepted for online purchases and at the door. Seats for this production will be reserved, so it's recommended tickets be purchased early. A discount of $2 per ticket is also available for groups of 10 or more.
Season tickets are also currently on sale, which includes Arsenic and Old Lace, RFK, By the Bog of Cats, Motherhood Out Loud, and 9 to 5: The Musical. These tickets are also available online, starting at $27, a great savings overall.
For more information about Arsenic and Old Lace, please visit www.sscctheatre.com.