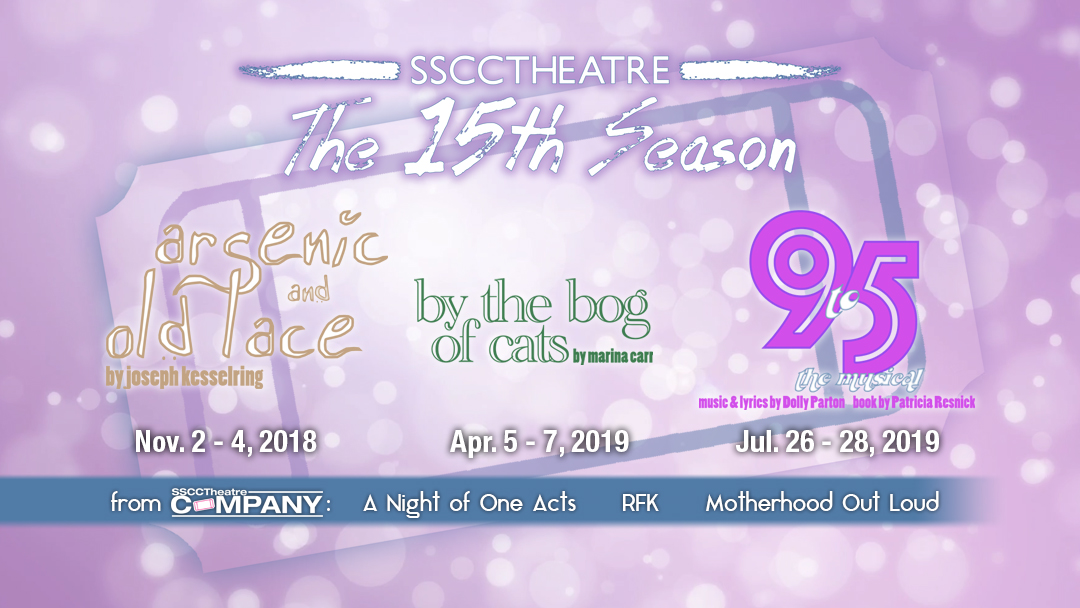 A timeless classic, a modern retelling of a Greek myth, and a movie-to-musical adaptation of a celebrated comedic masterpiece all come to the Edward K. Daniels Auditorium stage this season at SSCC Theatre.
Season tickets for SSCC Theatre's Fifteenth Season are on sale now! Tickets for the set of three mainstage productions start at $27, which also include free tickets to each of the SSCC Theatre Company shows. The schedule for the season is:
Arsenic and Old Lace, by Joseph Kesselring. We meet the charming and innocent ladies who populate their cellar with the remains of socially and religiously "acceptable" roomers; the antics of their nephew who thinks he is Teddy Roosevelt; and the activities of the other nephew—these require no further description or amplification here. Arsenic and Old Lace opens the season November 2 – 4, 2018.
By the Bog of Cats, by Marina Carr. Loosely based on Euripides' tragedy Medea, this is the prophetic tale of Hester Swane, an Irish Traveller, who attempts to come to terms with a lifetime of abandonment in a world where all whom she has loved have discarded her. Set on the bleak, ghostly landscape of the Bog of Cats, this provocative drama discloses one woman's courageous attempts to lay claim to that which is hers, as her world is torn in two. By the Bog of Cats runs April 5 – 7, 2019.
9 to 5: The Musical, music and lyrics by Dolly Parton, book by Patricia Resnick. Pushed to the boiling point, three female coworkers concoct a plan to get even with the sexist, egotistical, lying, hypocritical bigot they call their boss. In a hilarious turn of events, Violet, Judy and Doralee live out their wildest fantasy – giving their boss the boot! While Hart remains "otherwise engaged," the women give their workplace a dream makeover, taking control of the company that had always kept them down. 9 to 5: The Musical closes the season July 26 – 28, 2019.
SSCC Theatre Company, one night only productions include: A Night of One Acts, RFK, and Motherhood Out Loud.
To purchase your season tickets, read more about the upcoming season, explore the season history, or learn more about SSCC Theatre, please visit www.sscctheatre.com